Cooperation Framework Agreement of Training Highly Skilled Talents Signed: New Reform of Vocational Education Model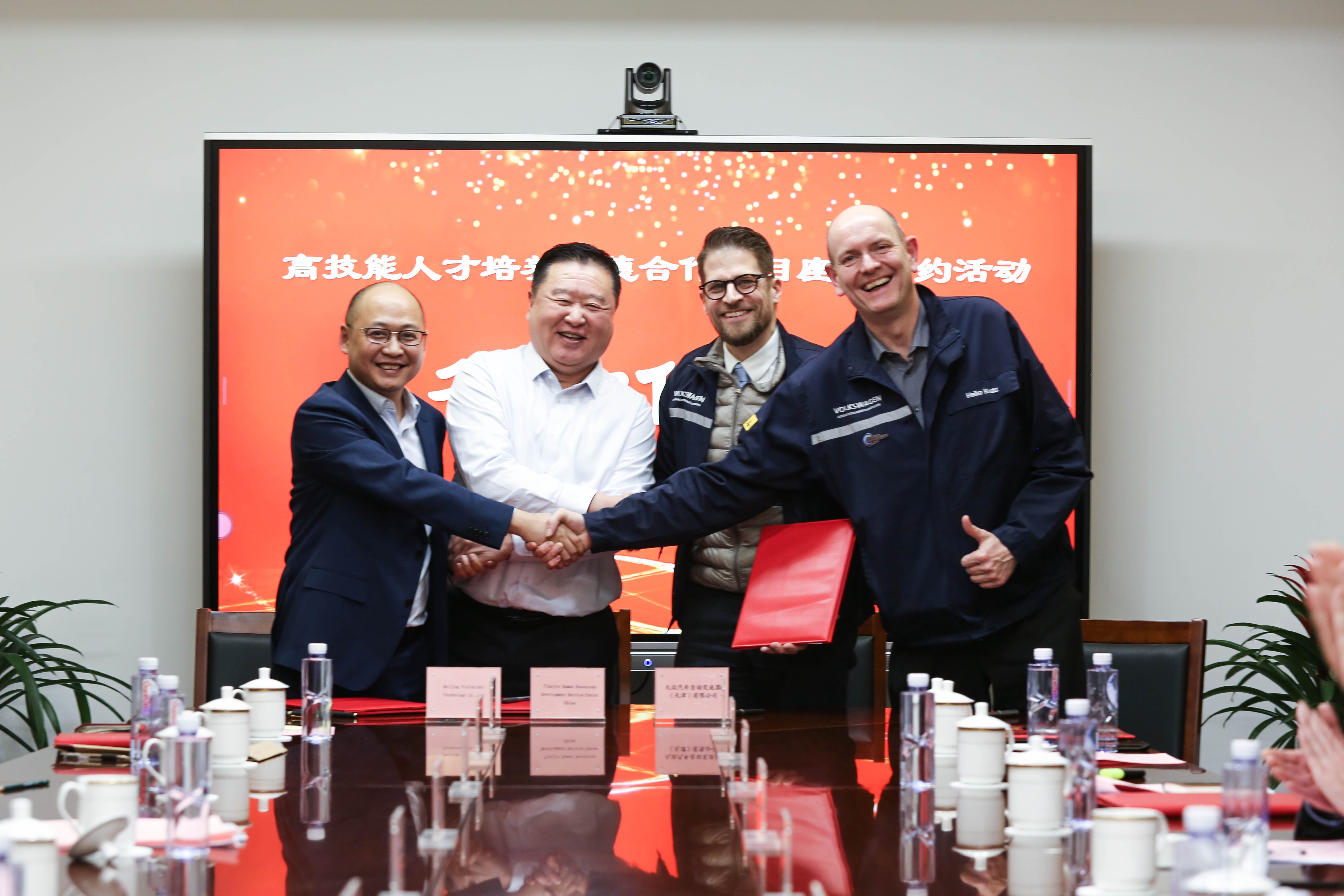 On February 20, 2023, Volkswagen Automatic Transmission (Tianjin) Co., Ltd. (VWATJ), Tianjin Human Resources Development Service Center China and Beijing Visioninet Technology Co., Ltd jointly signed the "Framework Agreement on Training High-skilled Talents". The three parties will carry out in-depth cooperation in intelligent manufacturing, automobile maintenance and other technical professional fields, further integrate the resources and experience of the government, schools and enterprises to jointly create the new local training model based on the German dual education system in accordance with the promotion of the development of vocational education in China.
This is another important milestone for Volkswagen Automatic Transmission (Tianjin) Co., Ltd. (VWATJ) in promoting talent development reform and cultivate high-skilled talents after the "Tianjin High-skilled Talent Training Base" which VWATJ Component Education Academy was successfully certificated after selection in November 2022.
Mr. Bernd Averes (General Manager Commercial), Mr. Heiko Knatz (General Manager Technical), Ms. Anja Christmann (Director of Human Resources, Organization & Education) and Ms. Lin Lv (Manager of Components Education Academy) participated in the signing ceremony and forum.
Talent is the essential success factor, jointly build a multi-win vocational training system
Executives of Volkswagen Automatic Transmission (Tianjin) Co., Ltd. emphasized in their speeches that talent is the key to the long-term development and success of enterprises. In the new era of rapid development of new technologies, cultivating highly skilled blue-collar workers and technical experts who can meet the transformation needs and drive the future trends of the industry is one of the core tasks and an important challenge for countries, schools and enterprises.
As an industry benchmark and a pioneer of the VW Group's technological transformation, VWATJ has been implementing the "Shuang Dongli双动力" project based on the German concept of dual vocational education since 2015. With this rich experience in cultivating the core skills and comprehensive competences of technical personnel, including front-line blue-collar workers in the automobile manufacturing industry, as well as with the best practices of corresponding vocational education programs, VWATJ is willing to contribute in broadening the international and close-to-factory practice education platform and resource sharing through this new cooperation model: It is our commitment as an enterprise in the general direction of China's vocational education. It is not only to gaining the resources and shared platform for our own talent reserve, we believe that we can also achieve a multi-win situation, together drive the improvement of the core competence of all personnel and jointly contribute in the economic development of the North China.
Embrace reform and transformation
Also participating in the exchange and witnessing the signing of the contract were representatives of the Volkswagen Academy, German Chambers of Commerce (AHK), and representatives of universities. After the signing ceremony of the cooperation agreement, all parties will conduct exchanges and field visits around talent training, and plan regular communication to continuously and effectively cooperate to embrace change and embrace transformation.